Gastronomic Haarlem
Haarlem is well known in the Netherlands for its wide choice of excellent restaurants, cosy cafe's and lively bars, and is really making a name for itself in gastronomic circles. Almost every week, there seems to be a new locale or food-related festival such as the great Haarlem Culinair to smaller slow food or street food festivals, like Proefpark Haarlem.
There are also several Michelin-starred restaurants in the surrounding areas of Haarlem, for instance the fabulous De Bokkedoorns in Overveen and Olivijn in one of Haarlem's cutest, historic streets.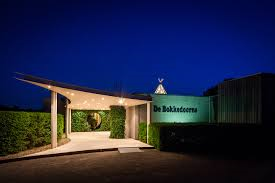 Haarlem Restaurant recommendations
Haarlem's lively restaurant, bar and cafe scene, sees many new arrivals all the time. You will find stellar restaurants, cosy cafes and trendy bars dotted around the city. Here we list our top picks and perennial favourites, but there are loads more gems to discover! Generally speaking, the food and service on offer in Haarlem's establishments are of a high standard – and you can't go wrong eating and drinking in this lively city. It is wise to make a reservation for Friday and Saturday nights though!
Perennial Favourites
The Louisiana Lobster Bar
Chill out with lobsters, craft beers, an astounding array of cocktails and live music in Haarlem's in-spot! Read more
The Roast Bar
Who doesn't love chicken? With ample space, finger-lickin' fare and a laid-back ambience, it's the perfect joint to visit with your kids. Read more
Loetje
The ever-popular Loetje in Overveen (just outside of Haarlem) is the place to go with your granny, your kids, your boss or just about anyone except for a romantic date. The specialty is steak and chips – which are really tasty! On warmer days you can sit on the terrace outside.
Café Colette
A lively French-styled brasserie in the heart of Haarlem, Café Colette serves French classics like escargots, onion soup gratinée, duck legs and of course crème brulée. They also have enough vegetarian choices like Melanzana or Ravioli. Slightly on the pricy side though.