One of the great things about being in Europe is that you can easily travel internationally by train to the Netherlands. Paris, London, Antwerp, Brussels, Frankfurt, Cologne, Dusseldorf and Berlin are all serviced by comfortable, high-speed train services to/from Amsterdam, making it a great way to reach Haarlem.
For instance, the super-speedy NS International (Thalys) service runs between Paris and Amsterdam almost every hour, with the journey taking just over 3 hours. On this route the train stops at Brussels (Belgium), Antwerp (Belgium), Rotterdam Centraal, Schiphol airport and Amsterdam Centraal stations.
Here are our top tips for travelling to the Netherlands by train.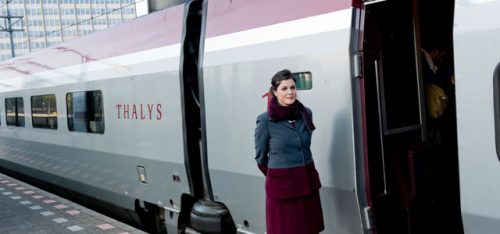 International train travel to Holland – fun & hassle-free
1. Buy your tickets online
Just as with almost anything travel-related these days, the NS International train tickets vary in price based on supply and demand and seasonality. While we can't always understand the ins-and-outs of how the computer algorithms work, it stands to reason that booking your train ticket online as early as possible will give you the best choice in fares and availability. You can buy your ticket on the train, but this can be a very costly exercise.
2. Travel first-class if you can
Like us, you might usually think that splashing out on a first-class train ticket is a little lavish. And admittedly the regular seats on the NS International – Thalys trains are already pretty swish. But we've found that it often does not cost much more to book a first-class ticket – and that little bit of extra comfort really adds to the allure of the trip. First-class train passengers have access to the lounge (with complimentary Wi-Fi) and a drink, which means you can arrive at the station early and not have to stand on a wet and windy platform. Also, you get served a meal on board (with a choice of soft-drinks, beer or wine), which is quite fun as you whizz through the countryside.
3. Find your compartment before boarding the train
Unless you are in a super-rush, it's best to get onto the train through the door of the compartment you are actually seated in. Your compartment and seat numbers are on your ticket, and an electronic board on the platform (usually in the middle of the platform) shows you which letter on the platform your carriage will be stationed at.
4. Watch the time (check, check & double check)
This sounds so logical, and is good practice for any journey, but do keep an eye on the time. Even as seasoned travelers, we have been (nearly) caught out! Depending on the security situation in Europe, there can be airport-style controls before getting on the train. And unlike flying, no one calls your name over the PA system if you don't show up (as your baggage is not checked-in).
In Amsterdam, the Thalys usually rolls in to the station about 10 minutes before departure, and you just get on-board with no fan-fare. However, in Paris Gare du Nord, the queue for security can snake outside of the station building – up to 30 minutes before departure. Also, once on board, it's handy to make a note of when the train has set off and what time you can expect to arrive. The train announcements are a bit muffled – and one of our party once got out at Rotterdam Centraal thinking he was in Amsterdam Centraal. The train continued without him…
5. Where to put your bags
The overhead baggage racks are roomy enough to take a weekend-sized suitcase. Anything larger has to go in the racks at the door. Unless you want to hop up and keep an eye on larger bags at every station (you are not allowed to chain them to the train), having smaller overhead luggage gives you a bit of peace-of-mind.
For actual departure times and fares of the international trains, check the NS International site. Once you arrive in Amsterdam or Schiphol, then see our tips on how to travel on to Haarlem.