One of Haarlem's most distinctive sights is the De Adriaan windmill. Located on the banks of the river Spaarne, it is a quintessentially Dutch landmark, and a guided tour should not be missed on your trip to Haarlem. From the top of the mill, you have a fantastic view of the historic city centre, along the banks of the river and beyond.
History of De Adriaan windmill
Although it looks very old, the present structure is actually a replica of the original mill, built in 1778 on the foundations of an ancient defensive tower by Adriaan de Boois. Originally the mill ground tufa – a type of limestone – to trass, which was used for cement and paint. It also milled seashells and oak bark.
In 1802, De Adriaan was sold to a tobacco merchant, and tobacco was ground here until 1865, when the mill was again repurposed to mill corn. Unfortunately the original windmill burnt down in 1932. Thanks to the efforts of many of Haarlem's citizens – and several attempts to finance the project – the windmill was reopened on 23 April 2002 – 70 years to the day it was destroyed.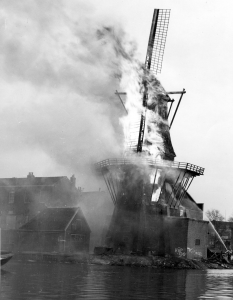 Visiting the mill
Take a fascinating 45-minute guided tour around the "Molen de Adriaan" as it is known in Dutch.
On the ground floor you'll find a permanent exhibition about De Adriaan's windmill, as well as some information on the history of Haarlem. There is also a small souvenir shop selling windmill-related merchandise.
On the first floor you can enjoy a audiovisual tour of the Spaarne river, and on the second floor is an exhibition about the technical aspects of mills, and demonstrations over how grain is milled to flour. Certainly not to be missed is the view from the viewing platform – 12 metres above the ground.
Address:
Papentorenvest 1 a
2011 AV Haarlem
Tel: + 31 23 545 0295
For current opening times and admission prices visit the website.
Discover what other visitors thought about the Molen de Ariaan.