Thinking of visiting Haarlem in April? Will there be enough to do? Yes certainly! Haarlem is a year-round destination, with or without children. Here our top tips of what to see and do in Haarlem in April.
Spring has sprung!
Spring-time in Haarlem and surrounds is always a treat! The flower capital of the Netherlands is in its full blooming glory. Baby animals, beautiful blossoms and glorious landscapes await visitors to the city and surrounds. The beaches are clean and beach clubs open – and King's day preparations are underway.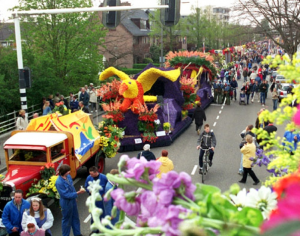 Haarlem Weather in April
Quite honestly, April weather in Haarlem is completely unpredictable. With a sea-climate, the weather in Haarlem can change by the hour (if not by the minute). One moment you can be basking in warm spring sunshine, the next waiting out a snow flurry or hail storm. Pack a bit of everything in your day pack – sunglasses, scarves, a fold-up umbrella and sun-tan lotion. Wear layers for flexibility – a t-shirt and a ski jacket can't go amiss – and enjoy the elements! The maritime climate means that April temperatures range on average from a low of 4-13 Degrees Celcius (38° F -54 ° F). April  in Haarlem tends to feature longer dry spells and sunshine than in March with approximately 36mm worth of precipitation in patches across 12 days and ten hours of sunlight. Haarlem is back into European summer-time as of the last Sunday in March, so there's a longer day to enjoy.
Haarlem events in April
The Haarlem Fair (Kermis in Dutch) is held from mid-April to the end of April on the Grote Markt. Good old-fashioned fairground attractions combined with the usual assortment of fair fare make for an entertaining evening.
The annual Bloemencorso flower parade of the Bollenstreek is a not-to-be missed visual spectacular. Around 20 floats and 30 cars decorated with technicolour blooms will not only amaze young and old, but smell gorgeous too!
King's Day (the King of the Netherland's birthday) is held on the 27th of April. On this public holiday, there is only one rule: dress in orange from head to toe. King's day in Haarlem is more of a family-oriented affair than it is in Amsterdam, but no less fun. Celebrations actually start the night before, with party-goers welcoming in the early dawn in the clubs and pubs, before children and families set up their stalls along the streets – selling anything from records to toys. After lunch King's day gives way to old-fashioned Dutch games and live music enjoyed with beers and sausages on every lawn and town square.
Of course, April is also a fabulous time to visit the world-famous Keukenhof gardens in Lisse, only 20 minutes from Haarlem. You can book your tickets for Keukenhof online here, and skip the queues.