No matter what season, Haarlem has loads of playgrounds for kids of all ages. All around the city, you will find well-kept municipal swings and slides, which are free to all. But did you know there are also some fabulous outdoor and indoor playgrounds, where for a small entrance fee, the whole family can play for hours on end? Here some ideas about Haarlem's best playgrounds.
The biggest treat of all the playgrounds has to be Linnaeushof in Heemstede (a suburb adjoining Haarlem). Linnaeushof claims to be Europe's biggest playground, with more than 350 attractions. What we love about it, is that all of the attractions have to be physically powered by the kids themselves. For instance, the monorail moves by cycle-power, and provides a great bird's-eye view of the entire park.
Linnaeushof, Europe's biggest playground near Haarlem
There are also pedalo's on a little lake, with a fun pirate island island in the middle that can be reached by a hanging bridge. And there are loads of swings, slides, trampolines and obstacle courses to keep kids of all ages occupied. In true Dutch tradition, you can even bring your own picnic and loll about on the lush lawns all day. There is also a super water playground for hotter days, so bring your swimming things! Smaller kids will love the little train, the traffic garden and the really little ones (toddlers) even have their own dedicated play area.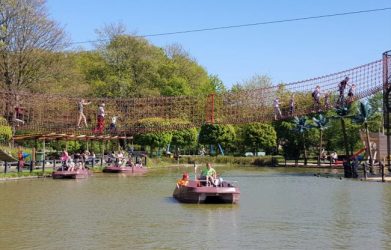 Playgrounds in Haarlem – what are the kids' favourite?
We think that Haarlem has super playgrounds, but don't just take just our word for it. Here a nine year old boy tells you what he loves to do in and around Haarlem. "There are many playgrounds for kids of all ages. One of my favourites when I was little was Tante Eef in Santpoort Noord. Another was Groenendaal in Heemstede. My absolute favourite is the indoor trampoline park, called Street Jump."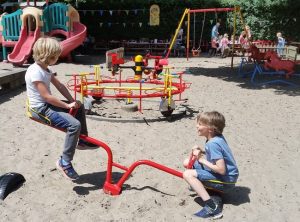 Find out what else there is for kids to do in Haarlem here.