May is a lovely month to spend in Haarlem – the city comes alive with music and the days get longer and warmer. The main festival is Bevrijdingspop – where both famous and lesser-known Dutch artists celebrate the Netherland's freedom. Also, just outside of Haarlem, the gorgeous Caprera open air venue in Bloemendaal get's going, with live acts in the midst of nature.
Haarlem Weather in May
In May, the weather in Haarlem stabilises and is usually pretty mild and sunny. Although with a maritime-climate, the weather in Haarlem can still change by the hour (if not by the minute). The coastal climate means that May temperatures in Haarlem can average anywhere from lows of 11 to 17 degrees C (52 to 63 degrees F ) and highs from 14 to 23 degrees C (57 to 73 degrees F). Carrying a light jacket with you is always advised – particularly for the evenings – even if the skies are blue. As Haarlem is pretty far north, May days are long – with sunrise at about 6am and sunset at around 10pm at the end of the month.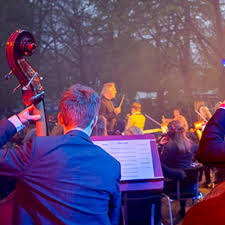 Haarlem events in May
Music lovers are in for a treat in Haarlem in May.
On the 4th of May, we remember everyone who died for the Netherlands' freedom in the second world war. All over the country,  flags are at half-mast and everyone stands still for two minutes at 20h00 no matter where they are. In Haarlem, a free classical memorial concert is then held as of 20h30 in the Haarlemmerhout park – always a memorable event!
The much acclaimed Bevrijdingspop festival (Freedom pop) is held on the 5th of May, to celebrate the Netherland's liberation at the end of WW2. It's one of the Dutch vagaries, that the 5th of May is only an official public holiday every 5 years, but the festival is held in the Haarlemmerhout park regardless of whether people have the day off or not. With a programme for both children and adults, everyone can enjoy a varied musical delight – from a mixture of both popular and lesser-known Dutch acts – in this free concert.
Luilak is a curious celebration of late-comers and people who can't get out of bed, which is held on the Friday evening (as of 16h00) until  Saturday morning (until around 11h00) on the weekend before Whitsun. In general, young people go around ringing bells and trying to wake people up. But for some unfathomable reason, this centuries' old tradition also involves an evening pot-plant market being held in Haarlem. Enjoy – or not.