Grote Houtstraat – the longest shopping street in Haarlem
Featured in the Dutch version of Monolopy, the Grote Houtstraat is Haarlem's longest shopping street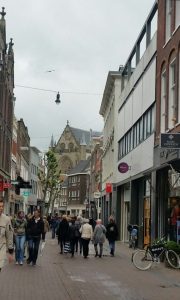 and one of the oldest in the city. Running straight through the heart of the pedestrianized zone, the most interesting part for shopping is between the Grote Markt to where the Grote Houtstraat meets with the Raamvest / Gasthuissingel.
In fact, if you plan to do any shopping in Haarlem (and you really should, seeing as it is regularly voted the best city for shopping in the Netherlands), then you will invariably find yourself in the Grote Houtstraat. Serving as the main artery for most of the other delightful streets, such as the Anegang, Spekstraat and Gierstraat, it's hard to miss!
High-street stores
Lined with the usual global giants such as the Apple store, Zara, H&M and Esprit, the Grote Houtstraat is also home to the usual Dutch high-street chains like Blokker, Etos, Intertoys, WE Fashion and (of course) there's an Albert Heijn. However,  the Danish Besteller chains, like ONLY, Vero Mode, Name It and Vila also have a strong presence in Haarlem's high-street. But no matter what you're after, you should find it in the Grote Houtstraat, seeing as it is the street with the most shops in Haarlem.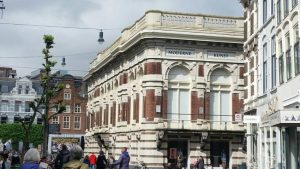 Relaxation and Monuments
If you need to rest your feet for a bit then you could visit one of the many cafe's on the Grote Markt. Or if you prefer, the other end of the street (closest to the Raamvest / Gasthuissingel) has quite a few public benches where you could just watch the world go by. But if you are in this end of the street, why not visit the delightful Hofje zonder Zorgen? Located in a 15th century historic building and overlooking the excluded garden of the 'Proveniers Hofje'. History buffs will be delighted to know that the paintings of the civic guard of St. George by Frans Hals once hung in the Poveniershuis.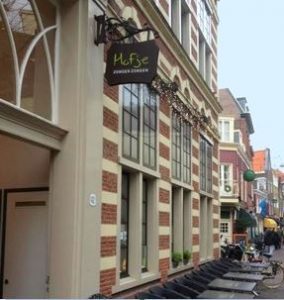 In fact, if you look close enough you'll discover a few monumental gems in the Grote Houtstraat, including the Verwyhal, which was originally a gentleman's club and is now an exhibition space. The top of the façade displays the words "Modern Art" and the names of Haarlem artists Israëls, Kruyder, Sluyters, Van Looy, Andriessen, De Kat and Gestel.