Is Haarlem fun for kids? Yes, of course it is. In fact, Haarlem is the city that many families move to from Amsterdam when they have children. Apart from being a small, safe city – which is easy to get around – Haarlem has loads of things for children of all ages to do. Here are our top tips for things to do with kids in Haarlem.
Beaches around Haarlem
What would a good holiday be without going to the beach? While we can't guarantee that you'll always have sunny skies, a visit to the beach is fun for children of all ages. Even if it's snowing! Haarlem is close to some excellent beaches, with Bloemendaal-aan-zee and Zandvoort being only a short bike, bus or car-ride away. After romping on the beach, go for a drink or a meal at one of the numerous beach clubs – almost all of which are super child-friendly. Some of the beach-clubs even have playgrounds and swings – what could be more fun than that?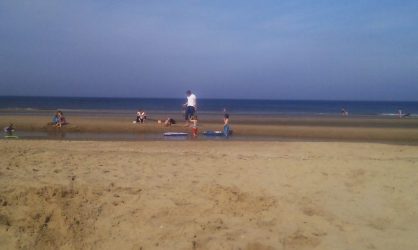 Playgrounds around Haarlem
There are plenty of free climbing frames and swings to be found dotted all around Haarlem. And there are also some really super-duper playgrounds, which for a small fee, will provide hours of entertainment for the whole family. Read more about Haarlem's playgrounds for kids here.
What's on for kids in Haarlem?
Haarlem is so geared towards children that the city even has it's own Kid's Month, held every October. During Kid's Month, all sorts of cultural activities and festivals are held specifically for children. But you don't need to only visit Haarlem in October to find plenty of activities and children's events. A great site to discover "What's on" for children in Haarlem is Kidsproof. The site is in Dutch, but the pictures, links and Google Translate should give you a good idea.