Visiting Haarlem in June
June is a lovely month to visit Haarlem. The tree-lined city streets are glorious, the air is fresh and the days are long. Haarlem in June has an air of expectation about it – with the last gentle hustle & bustle before the summer starts in earnest. Several June Haarlem events, are sure to delight young and old – such as the biannual comic festival, Shopping night and several fun outdoor festivals and activities, like the "Avondvierdaagse" (four-day evening walking event) and "Grachtenloop" fun-run along the canals.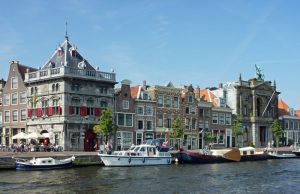 Haarlem Weather in June
June in Haarlem is usually quite sunny, with a relatively stable low baseline of around 10 – 13 degrees C (50 – 55.4 degrees F) and the highs fluctuating from 13 – 23 degrees C (55.4 – 73.4 degrees F). Haarlem days are at their longest in the middle of the month, with around 16,5 hours of daylight. The sun rises at 05h20 and sets just after 22h00 on the 21st of June. This means visitors to Haarlem in the early summer, get even longer to enjoy the city's beautiful buildings and surroundings.
Events in Haarlem in June
Haarlem really comes to life in early summer, with plenty of activities and festivals for the whole family. Although, it's name might sound a little dodgy, the biannual "Stripdagen Haarlem" is actually a comic strip festival which consists of many (free) exhibitions, fairs, discourses, concerts, movie screenings, award festivities and children activities.
Shopaholics will be in their element at the annual ShoppingNight Haarlem, where in addition to some great discounts, Haarlem storekeepers organise many fun activities, such as live music, street theatre, snacks, drinks, workshops and even fashion shows. And with Haarlem known as one of the best shopping cities in the Netherlands, you're sure to be in for a treat!