Roast Chicken Bar Haarlem
What came first – the chicken or the egg? Well you can ponder this question all day and late into the night at Haarlem's latest eatery, situated on Haarlem's Turfmarkt. Known as The Egg Store by day – serving all things ovine – the restaurant turns into a bustling Roast Chicken Bar by night. With ample space and a laid-back ambience, it's the perfect joint to visit with your children.
Who doesn't love chicken?
As you walk through the doors, the first thing you'll notice is the smell of the charcoal grill and the satisfying sight of chickens roasting on the spit. The Roast Chicken Bar is housed in an old garage – and the space has been well-renovated and put to optimum use to give a relaxed, informal atmosphere. After 17h00, the restaurant is all about chicken – and basically the menu consists of a choice of a half chicken or a whole chicken. The birds are all free-range, bred in Baarneveld (famous for their chickens), juicy and delicious. We opted for fries and coleslaw as our side-dishes, both of which were very tasty – and good-sized portions. Service was very swift and the personnel friendly and attentive.
Finger-licking fun for the whole family
The Roast Chicken Bar also offers a children's menu and due to the size of this eatery, it is a great place to eat out with the kids. Our 6-year old thought it was "funny 'cause all they have is chicken" and of course the sight of the roaring open fire of the charcoal grill also had us all mesmerised. In addition to the tables, there is seating at the long bar with a view of the flames – giving the feel of an American diner – and this makes it a good option for people dining alone.  The Roast Chicken Bar would also be a great venue to catch up with friends – there is room for longer tables to be set up and reservations can be made for groups of more than 6 people.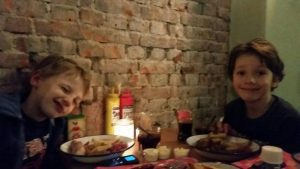 Sunday Roast with live music
We have an inkling that the Sunday Roast with "live music, eggs any style, bloody good Mary's and tender sweet roasted chicken" is going to become a Haarlem hit. All in all, the Roast Chicken Bar is a relaxed, affordable restaurant serving tasty food – and we'll certainly be going back for more!
Don't just take our word for it…
Read what other people have to say about The Roast Chicken Bar.