Santpoort (near Haarlem)
At first glance, sleepy Santpoort may not seem to offer much to visititors and tourists to Haarlem, but anyone interested in medieval history will be delighted with the Ruins of Brederode Castle, families with kids under 7 will love the super playground in Santpoort-Noord, nature-lovers will be in heaven and foodies will also be very well-served in the excellent (Michelin-starred) restaurants.
Getting to Santpoort Noord and Santpoort Zuid
Santpoort is actually composed of two separate villages – Santpoort-Noord – with a lovely cobble-stoned shopping street lined with boutiques and foody-focussed shops – and Santpoort-Zuid. Both of the villages of Santpoort have their own train station (the second and third stations from Haarlem on the train from Amsterdam or Haarlem in the direction of Uitgeest).
Ruine van Brederode
The Brederode castle ruins are stunning and very much intact. The castle was founded in the second half of the 13th century by William I van Brederode (1215–1285) and in the 19th century were one of the first structures to be restored  making the first national monument of the Netherlands. You can walk around them freely while revelling in the surrounding pastural landscape. There are also several species of bats to be found in the ruins.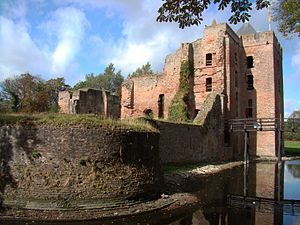 Eating & Drinking in Santpoort
Stepping of the train in Santpoort-Zuid, you'll find a lovely bistro/brasserie called Klein Centraal for a relaxed drink or meal. But for a purely ,sublime experience, head to the Michelin-starred Vrienden van Jacob restaurant in the historic manor house of the Landgoed Duin & Kruidberg estate. Another great dining experience in Santpoort is to be had in the romantic Boschbeek restaurant, where Keizerin Sissi was a guest in the past.
Santpoort with kids
Most of the inhabitants of Santpoort are former city-goers with young children, so there is plenty to do with kids. Stepping off the train from Santpoort-Noord and crossing the road, you'll find the lovely Santpoort playground (called Tante Eef locally), which is a sure-winner with both parents and kids under 7. For a nominal entrance fee (currently EUR 0,75 per person) the whole family can find some peace. Parents can relax on a sunny bench, while the kids play in a relaxed fenced-off environment. Older – or wilder kids – can blow off some steam in the skateboard park across the road, where all the tweens are very friendly (although they do their best to be cool).