Bloemendaal is an affluent suburb a few minutes journey from Haarlem. And it is certainly worth paying a visit to if you are in Haarlem. The leafy and slightly hilly avenues (yes, hills in the Netherlands) are lined with lovely 19th century villas. And the town-centre is very charming – with little boutiques and a good choice of dining options.
There are two main parts to Bloemendaal. There's the picturesque village itself, with it's lovely shops, bars and restaurants. And then there is Bloemendaal-aan-zee which is directly on the coast. Here you will find lovely wide, clean beaches, chic beach clubs and the spectacular Dutch dunes.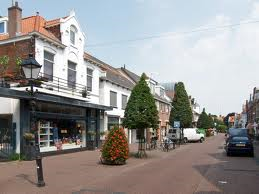 Bloemendaal village
The village of Bloemendaal is very scenic, and the main street  is surprisingly lively for such a small community. The streets are lined with villas from the 1920's and 1930's and it can actually be quite hilly in Dutch terms. The main shopping street has the air of a well-to-do ski village – with lovely little boutiques and plenty of pavement cafes, bars and restaurants. Spend some time just watching the passing parade of both people and luxury cars go by. There are also a few small boutique hotels in the area and it certainly is worth staying the night. Especially if you intend to go to the Michelin-starred restaurant De Bokkedoors or to the Caprera Open-air theatre .
Bloemendaal-aan-zee
With its lovely long clean beaches, upmarket beach clubs, spectacular dunes and relaxed vibe, Bloemendaal-aan-zee is one of the best beach experiences you'll have in the Netherlands. Families will appreciate Parnassia aan Zee – in the Kennemer Zuid National Park, which has a clean and safe beach and great family restaurant with playground. There are also many beach clubs to choose from – some are very trendy, but even then, the atmosphere is always friendly and chilled-out.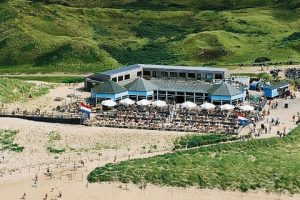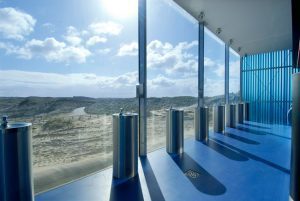 Getting to Bloemendaal
Travelling to this charming village is easy – whether you are arriving from Haarlem or Amsterdam.
Train from Amsterdam to Bloemendaal – Bus to Bloemendaal-aan-zee
There is a direct train running from Amsterdam Centraal to Bloemendaal station every 20 minutes. The train usually leaves from Platform 1 (going in direction Uitgeest) and the journey takes around 23 mintes. Bloemendaal is the next stop after Haarlem Centraal. If you are travelling to the beach, then the best is to disembark at Haarlem Centraal, and then take Bus 81 (as it's too far to walk to the beach – 5km – unless you have all day and fancy hiking through the dunes in the Kennemer National Park).
Train from Haarlem to Bloemendaal
A direct train leavs from Haarlem to Bloemendaal every 30 minutes and usually leaves from Platform 6 (going in direction Uitgeest). The journey takes around 3 minutes as it is the first stop from Haarlem Centraal. From the station it is a lovely 5-minute walk to the village centre through tree-lined streets.
Find out what other visitors discovered in Bloemendaal.