Bonetti – Cosy Italian Hospitality
One of our absolute favourite restaurants in Haarlem is Bonetti. Located a 3-minute walk from Haarlem Centraal Station, you would be forgiven for passing Bonetti without seeing the entrance. This tiny Italian trattoria is next door to the very popular organic chip shop, the Friethoes – and there are always hordes of snack lovers hanging around the door. But once you open the door of Bonetti, a sense of friendly Italian charm pervades.
Cosy charm
The charming cosy tables are extremely inviting, and we do recommend that you call ahead to reserve your spot. We prefer the inside tables for the cheery ambience and happy bustle emanating from the open kitchen. But there are also tables in the inner courtyard which are great for warmer evenings. The staff – who speak English, Dutch and Italian (sometimes all in one sentence) – are extremely hospitable and fulfil your every wish with effortless professional flair. We were very flattered that they remembered my partner's name on our second visit (granted he does have the same name as a rather famous football player) and our preferred choice of wine. We also love how wine can be selected by the carafe – which offers excellent value for money if you're up for more than one glass each but not a full bottle.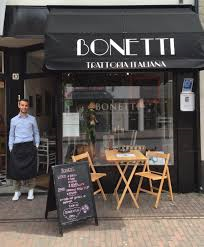 Homemade and delicious
And then there's the food… Good honest Italian fare – absolutely fresh and sublimely prepared and so much better than mamma made. The very affordable menu changes monthly, depending on seasonal produce and the wine list is brilliant. We highly recommend the Antipesto Bonetti for a special treat for two – and the daily specials are great value for money!
We've only ever been to Bonetti for dinner, but in gorgeous Italian tradition, they are also open for lunch as of 12h00. Great for a meet-up with friends, or even a business occasion to escape the rather dreary Dutch sandwich-and-milk lunches. And if you're really up for a treat – or have a dinner party and don't like to cook, then Bonetti's offers both a takeaway and catering service too.
Don't just take our word for it…
Read the latest Bonetti restaurant reviews to discover what other people think of it.