Day-trips around Haarlem
We often get asked whether there is enough in Haarlem to keep tourists occupied for more than a few days. The answer is a resounding yes! There are so many lovely villages, parks and of course beaches around Haarlem that you will never run out of places to explore. Here are just a few ideas.

Bloemendaal
Scenic Bloemendaal is close to Haarlem, & offers two attractions for visitors – the lively picturesque village itself & Bloemendaal-aan-zee with it's lovely beaches and the famous Dutch dunes.
Santpoort
Although at first glance it may appear to be a sleepy hollow, Santpoort-Zuid is home to the spectacular Brederode castle ruins, whereas Santpoort-Noord has a lovely windmill where you can buy delicious cookies and flour from the mill, a great playground for children under 7, and a lovely little shopping street.
National Park Zuid-Kennemerland
You could spend days in the National Park Zuid-Kennemerland, very close to Haarlem and not run out of things to do,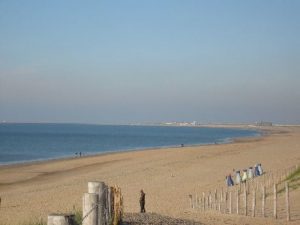 Cycle, run, walk or swim – an outing here will refresh all your senses. Entrance is free to this 3800 ha. park – and yes, you will probably encounter some Dutch wildlife, such as wild horses and even buffalo.
Overveen
Also not very well-known, the village of Overveen is a few minutes from Haarlem by train or car. The main shopping street of Overveen is very quaint and you should certainly not miss a stop at Luciano's for fantastic Italian ice-cream. Combine this with a visit to Loetje or Stach for a great low-key and very family-oriented breakfast, lunch or dinner!
Amsterdam , Leiden, Den Haag or Rotterdam
Fancy staying somewhere quieter, and day-tripping to some of the Netherland's more well-known cities? Then Haarlem is the ideal base! Direct train links will have you whisked off in under an hour to some famous Dutch cities, such as Amsterdam, Rotterdam or Leiden, where you can also change for many other cities and towns such as Utrecht!