Visit Haarlem, the Netherlands
Haarlem is a charming, medieval city in North Holland with lots for tourists to the Netherlands to see and do. This Dutch city offers tourists a lively cultural scene, oodles of atmosphere, excellent shopping and dining opportunities – and is close to some great beaches too!
Haarlem is the capital of the province of North Holland, and is only 15 minutes from Amsterdam and Schiphol airport.
Haarlem or Harlem
Not to be confused with Harlem in New York, our Haarlem, in North Holland, the Netherlands is located on the banks of the Spaarne river and is actually the provincial capital of North Holland. Dutch Haarlem dates back to gothic times and this is reflected in the architecture and cobbled streets, which make for splendid strolls.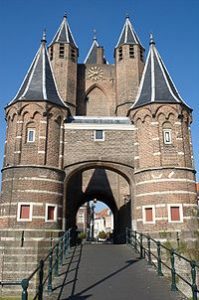 Secret European Gem
Visitors to Haarlem will soon discover just why the city is so adored by locals. The city's lovely shopping streets – lined with little boutiques – and cosy restaurants add to the allure. Named by the Huffington Post, as one of the
"10 Secret European Spots You'll Want To Visit Stat"
you should definitely include Haarlem on your European itinerary!
Flower Capital and More
Haarlem is at the center of the Dutch flower-growing district and is a main export point for flower bulbs. Not far from the famous Keukenhof gardens and flower fields of Lisse and Hillegom, the city is a great base for visitors to the Netherlands to see the tulips in full bloom.
Only 15 minutes by train, Haarlem makes an excellent base for visitors to Amsterdam. It is also very close to historic Leiden, the cheese markets of Alkmaar and an hour from The Hague. This makes Haarlem an excellent choice to stay in when exploring North and South Holland.
City-break from Amsterdam and other European capitals
With so many picturesque tourist sights, excellent museums, boutique shopping, good hotels, sandy beaches and a wide range of restaurants, Haarlem is a great holiday destination or a wonderful city-break for a weekend away.
Discover all Haarlem has to offer tourists and visitors
Visit Haarlem provides English-language tourist information for visitors to Haarlem, the Netherlands. We recommend Haarlem as a destination for travellers who want to see another side to the Netherlands than the well-trodden paths of Amsterdam. Haarlem is only 20-minutes from Amsterdam – so is a perfect base or daytrip from the Dutch capital. Our reviews are independent and we strive to find the best The Netherlands has to offer for families and independent travellers.